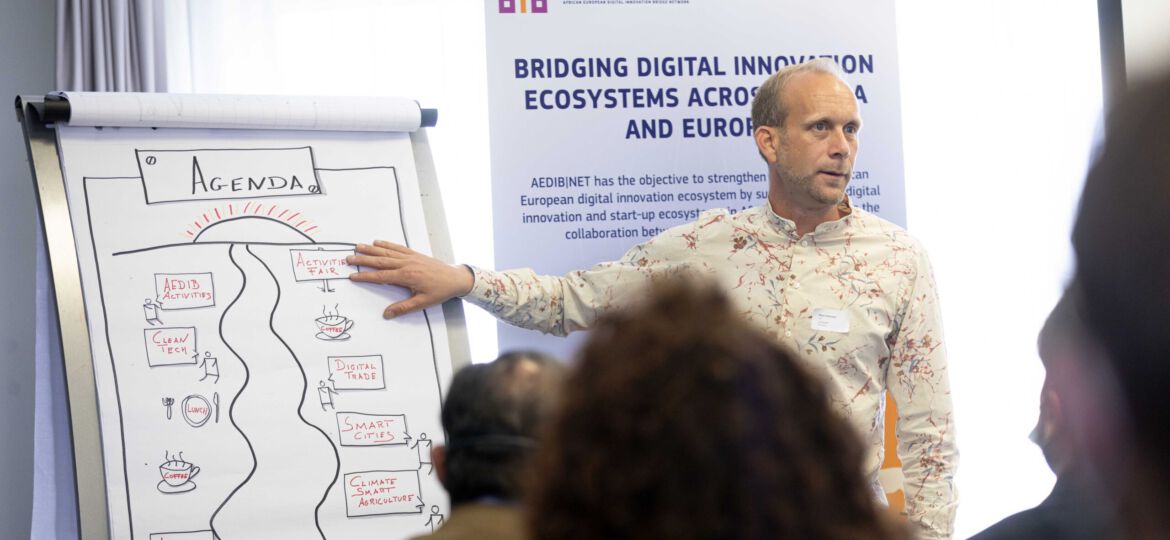 Kick-off: African Digital Innovation Hubs come together in Brussels
Representatives of the twelve African consortia selected to become Digital Innovation Hubs (DIH) by the African European Digital Innovation Bridge (AEDIB), have come to Brussels to meet with AEDIB partners and European Commission officials to kick off the collaboration and laying the foundations to become a DIH.
From 26 to 28 April, the consortia together with several AEDIB partners are preparing to implement the tools, mechanisms and best practices that will help them shape the digital transformation of African small and medium enterprises (SMEs) in the areas of Clean Tech, Climate Smart Agriculture, Smart Cities and Digital Trade.
The consortia forming the DIHS will have the opportunity to meet their counterparts in other countries and will exchange with AEDIB partners as well as the European Commission on how they can be best supported in their vision. Workshops on how to create an effective value proposition and business model for their service offerings as well as how to spark innovation with policy makers will gear them up for the next phase.
"We are very grateful to finally be able to meet with the great candidates selected to become African Digital Innovation Hubs, as well as all our partners. Our goal is to strengthen the collaboration and exchange on innovation between the African and European continent. Now that we´re all coming together, it really takes off", says AEDIB coordinator Stefanie Zinsmeyer.
Those three days in Brussels are only the beginning of a stronger exchange on fostering innovation ecosystems in Africa and Europe. AEDIB´s goal is to create a Pan-African network of African Digital Innovation Hubs (ADIHs), which will strengthen companies in their digital transformation path and create economic growth and employment opportunities on the African continent.