About the VC4A Venture Showcase
VC4A Venture Showcase Africa - 2023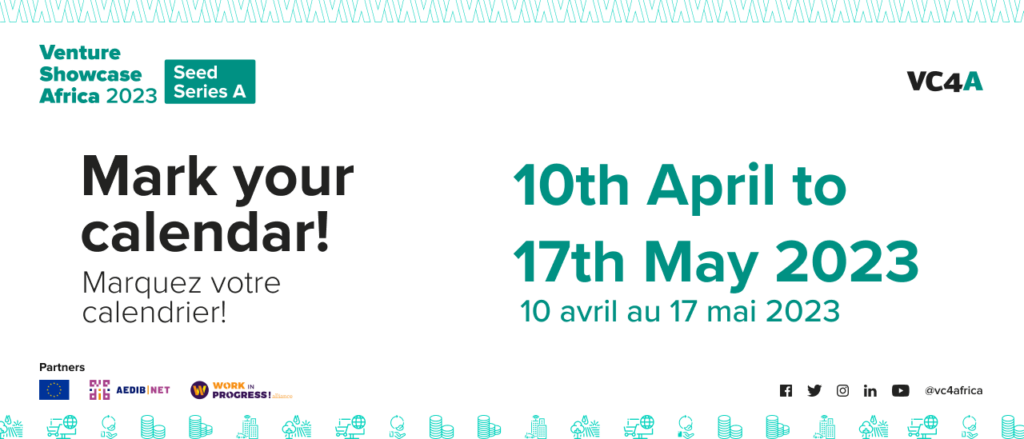 VC4A opened a 2023 call dedicated to startups and scaleups from across Africa and welcomes fast-growing ventures with clear impact potential and in the process of scaling up their activities in the region.
Every year since 2017, the VC4A Venture Showcase spotlights the best tech companies from across the continent ready for Seed & Series A financing. Participation by startups has resulted in a number of investment deals totalling over USD 630M+.
The 2023 edition is brought to you in partnership with the African European Digital Innovation Bridge Network (AEDIB|NET) and Work in Progress. The AEDIB partnership allows the Showcase to spotlight four thematic sectors: Climate Smart Agriculture, Smart Cities, Digital Trade or Clean Tech, in one of the following countries: Cameroon, Côte D'Ivoire, Egypt, Kenya, Morocco, Rwanda, Senegal, South Africa, Tanzania, Tunisia and Uganda. 
The selected cohort will also have the opportunity to participate in the VC4A Venture Showcase deal-room with 200+ early-stage investor organizations, access Investor Readiness Training (IRT), mentorship and technical support, VC4A technical partners, masterclasses and special deals.
If you are interested in attending a webinar to get more information or have questions, please contact Jason Delorie jason@vc4a.com or Abu Cassim abu@vc4a.com. Please also visit the VC4A website at ventureshowcase.VC4A.com to be updated. The webinar is planned for 8-9 May 2023. More information will follow.
Note that applications close on 17th May, 2023. You can also view the brochure for more information.
To apply, please visit the VC4A website pages: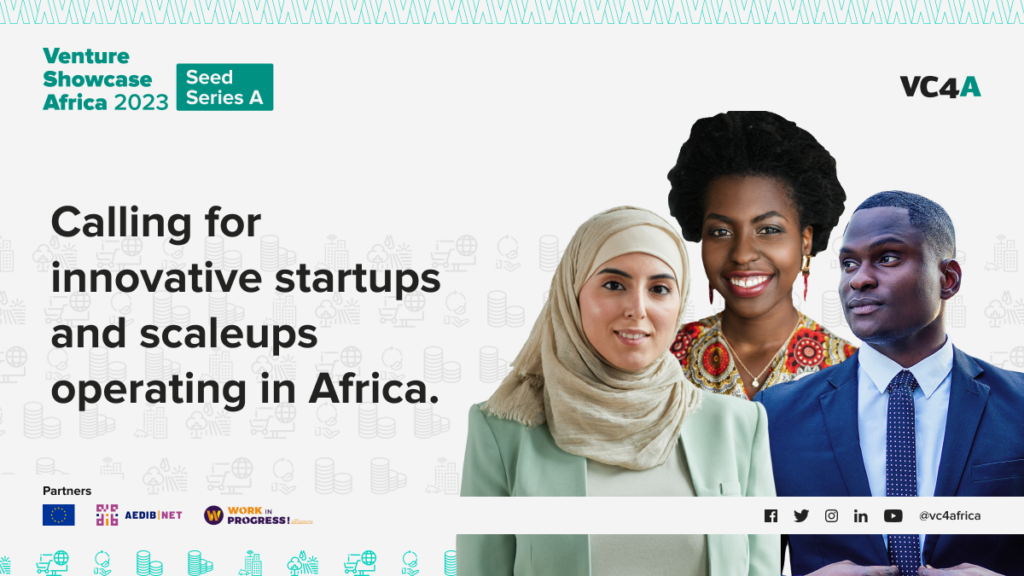 About VC4A:
VC4A is an ecosystem builder that leverages its infrastructure, network and expertise for the programs that contribute to the startup movement in emerging markets. Since 2008, the organisation designs, structures and implements successful entrepreneurship programs on the continent. VC4A runs an online platform featuring the world's largest database of startups in Africa and Latin America and connecting entrepreneurs to resources, networks and funding. Visit https://VC4A.com/ for more information.
About Work in Progress!
The Work in Progress! Alliance, funded by the Dutch government, aims to enable young people from diverse backgrounds to generate sustainable living wages and create optimism about their future. As a member of the Alliance, VC4A works with partners on the acceleration of start-ups and the offering of business development services (BDS) to impact-driven small and medium-sized enterprises (SMEs) so they can employ more young people.
Organiser: VC4A
Partners: In partnership with: AEDIB|NET and Work in Progress! Alliance