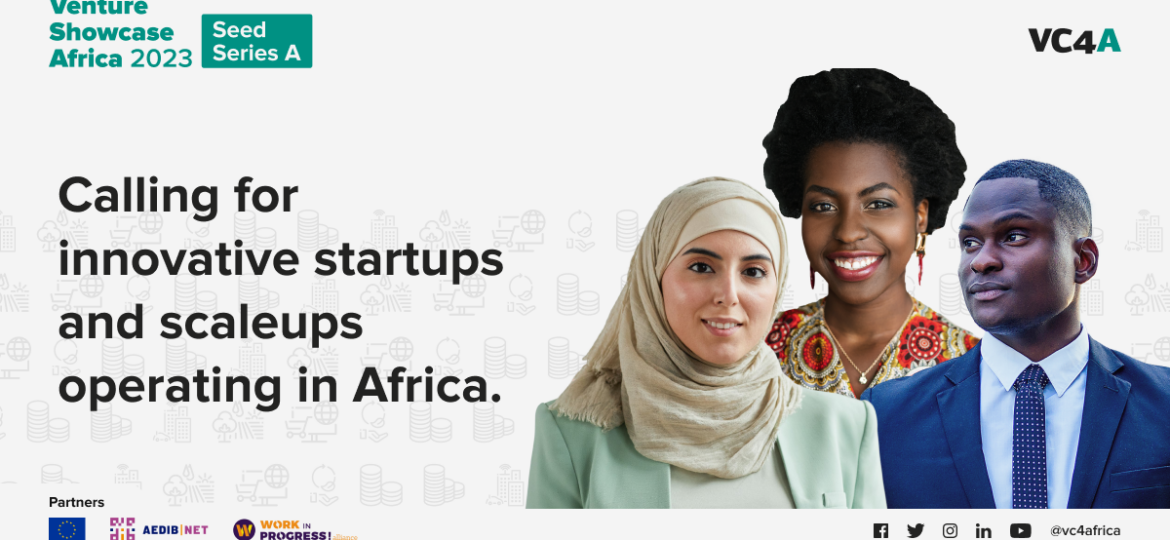 SINCE ITS LAUNCH IN 2017, THE VC4A VENTURE SHOWCASE AFRICA HAS HELPED ITS ALUMNI RAISE OVER $630M, HIGHLIGHTING THE PROGRAM'S SUCCESS IN FOSTERING ENTREPRENEURSHIP AND INNOVATION IN AFRICA
AMSTERDAM, Netherlands, April 11, 2023/APO Group/ – VC4A (https://www.VC4A.com) is thrilled to announce the call for applications to the VC4A Venture Showcase Africa – 2023, the annual accelerator program that spotlights high-growth, high-impact ventures driving economic growth throughout the continent. The Showcase is an opportunity for African founders leading innovative and disruptive startups and scaleups, generating revenue and looking to raise their Seed or Series A round, to showcase their businesses to the most active investors on the continent.
Since its launch in 2017, the VC4A Venture Showcase Africa has helped its alumni raise over $630M, highlighting the program's success in fostering entrepreneurship and innovation in Africa.
Participating companies receive visibility with investors throughout the process
This edition, VC4A is proud to partner with Work In Progress and the African European Digital Innovation Bridge, AEDIB|NET (funded by the EU Horizon 2020 programme). Through VC4A's partnership with AEDIB|NET, we aim to provide four themed tracks, namely Climate Smart Agriculture, Smart Cities, Digital Trade, and Clean Tech, in addition to the two primary tracks of Series A and Seed fundraising. AEDIB|NET is dedicated to supporting African-based startups with disruptive solutions in one of the themed tracks in 11 select African countries.
Abu Cassim, acceleration team lead at VC4A highlights how this program is different, "The real value of the VC4A Venture Showcase Africa program is the level of investor engagement. Investors are involved in referring startups, selecting the most appropriate companies, in the delivery of masterclasses and in the final pitch process. As a result, participating  companies receive visibility with investors throughout the process."
We are excited to invite other partners who share our vision and commitment to strengthening entrepreneurship in Africa to join us. Working together, we can provide more significant opportunities for African founders to showcase their businesses and connect with prospective investors and partners.
To apply for the VC4A Venture Showcase Africa – 2023, please visit our program page at https://apo-opa.info/3KQ37s8. The application period opens from 10th April to 17th May, 2023.
Let's celebrate African innovation and drive economic growth together!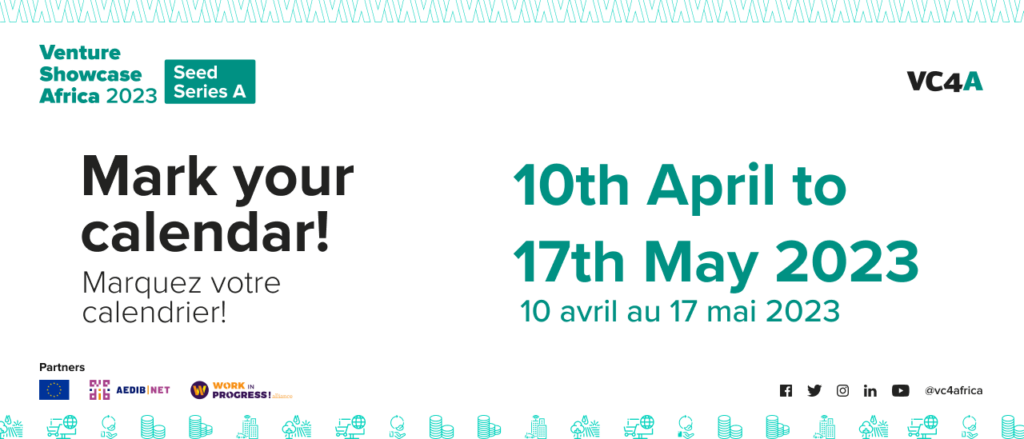 If you are interested in attending a webinar to get more information or have questions, please contact Jason Delorie jason@vc4a.com or Abu Cassim abu@vc4a.com. Please also visit the VC4A website at ventureshowcase.VC4A.com to be updated. The webinar is planned for 8-9 May 2023.
To apply, please visit the VC4A pages:
About VC4A:
VC4A is an ecosystem builder that leverages its infrastructure, network and expertise for the programs that contribute to the startup movement in emerging markets. Since 2008, the organization designs, structures and implements successful entrepreneurship programs on the continent. VC4A runs an online platform featuring the world's largest database of startups in Africa and Latin America and connecting entrepreneurs to resources, networks and funding. Visit https://VC4A.com/ for more information.
About Work in Progress!
The Work in Progress! Alliance, funded by the Dutch government, aims to enable young people from diverse backgrounds to generate sustainable living wages and create optimism about their future. As a member of the Alliance, VC4A works with partners on the acceleration of start-ups and the offering of business development services (BDS) to impact-driven small and medium-sized enterprises (SMEs) so they can employ more young people.
About AEDIB|NET:
The African European Digital Innovation Bridge (AEDIB|NET) is an EU/Horizon2020 project that aims to strengthen a common African European digital innovation ecosystem by supporting local digital innovation and startup Ecosystems in Africa, thereby facilitating the collaboration between European and African innovation hubs. The project has a specific focus on Climate Smart Agriculture, Smart Cities, Digital Trade and Cleantech.