September 11 @ 13:00

-

15:00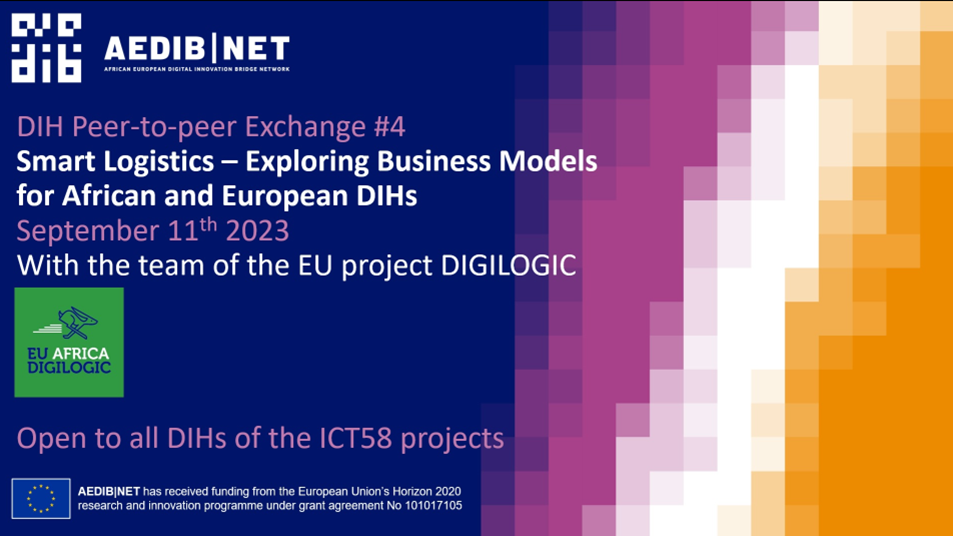 Smart logistics is far more than just transporting goods around the globe. In reality, logistics affect everyone everyday: People commute, individuals order products online, online platform coordinate business processes and businesses procure, deliver or store raw materials or products in warehouses.
With this vast scope comes many challenges, which can be effectively addressed by applying digital technologies and smart logistics solutions. Embracing these innovations opens the door for digital transformation – and business opportunities for DIHs.
DIGILOGIC and AEDIB|NET organise this online peer exchange to explore business opportunities for African and European DIHs and to learn from each other's experience in the sector.
Agenda of online peer exchange
DIGILOGIC will present successful business models and use cases from DIHs that have ventured into the smart logistics domain.
All participants will discuss the challenges and opportunities in adopting smart logistics solutions and how DIHs can facilitate their implementation.
In a short mapping exercise, the participants will create an overview of the smart logistics sector in their countries.
Smart logistics as an opportunity for DIHs
The logistics industry in Africa and Europe stands at the cusp of an unprecedented transformation driven by a convergence of societal, technological, and biological trends.
Therefore, it represents an excellent opportunity for developing DIH's business models. The main opportunities include:
Promote Sustainable Innovations: Integrating smart logistics can significantly reduce carbon footprints, promote green practices, and address the sustainability challenges faced by the logistics sector, aligning with the broader global goals of environmental responsibility. Creating spaces for innovators in the sector could foster these innovations which is often sponsored by large industry players or development organisations.
Develop Business Opportunities can also be explored through the collaborations with logistics companies, e-commerce platforms, manufacturers, and other stakeholders seeking innovative solutions to optimize their supply chains and streamline operations.
Foster local Ecosystems: By actively engaging in the development and adoption of smart logistics, DIHs can foster a thriving local innovation ecosystem, attracting new entrepreneurs, startups, and technology providers seeking to contribute to this transformative domain.
About DIGILOGIC
DIGILOGIC is an EU-funded project that aims to establish a Pan-EU-Africa sustainable network of DIHs to foster digital transformation in the African logistics sector.
Calendar invitation: DIH Online session #4 with DIGILOGIC_ Smart Logistics – Exploring Business Models for African and European DIHs