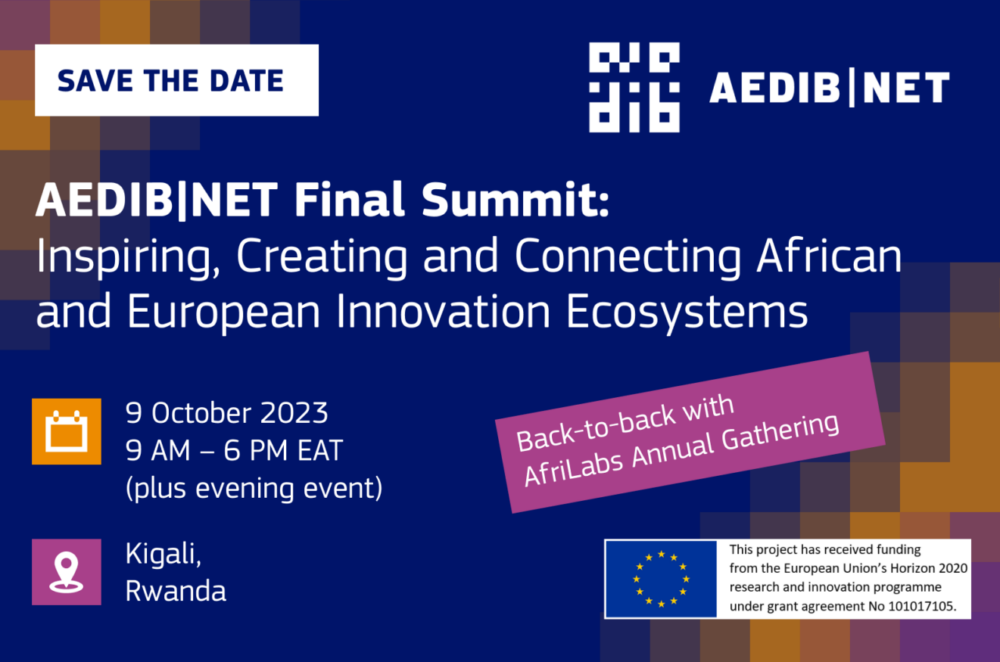 The AEDIB|NET Final Summit culminates three years of dedicated work to foster valuable partnerships between African and European innovation ecosystems. This event will provide an essential platform for stakeholders to reflect, learn, share project experiences and plan future activities of AEDIB 2.0, which was launched during the last EU-AU Summit and is part of the Africa-Europe Global Gateway Investment Package for Digital, Education and Research.
Date: Monday, 9 October, 2023
Time: 09:00 – 18:00 plus evening event
Place: Norrsken House, KN 78 St, Kigali, Rwanda.
The agenda of the Summit will address the following topics, through keynotes, panels and working groups:
The final summit will commence with a welcome address by the European Commission
The big picture of the AU-EU Innovation Agenda
DIH concepts and the opportunities they offer for international collaborations on both continents
How to work with the private sector in practice
AEDIB 2.0: the way forward for support to DIHs, and more
Policy reforms to support entrepreneurship
Innovative investment streams for ecosystems
Towards a pan-African network of DIHs
… and other key questions for the future of innovation on both continents, as well as opportunities of networking and matchmaking within our network of partners.The Summit will take place back-to-back with the AfriLabs Annual Gathering on 'Accelerating Africa's Digital Economy', which brings together tech hubs from across the African continent in Kigali, Rwanda, on 11-13 October. To register, click here.
We look forward to welcoming you in Kigali!
The Consortium of the African European Digital Innovation Bridge Network (AEDIB|NET)
AEDIB|NET has received funding from the European Union's Horizon 2020 research and innovation programme under grant agreement no. 101017105.

The deadline for registration is 15 September 2023.